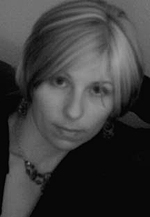 Karen was born and raised in Seattle, Washington. She currently lives in Temecula, CA with her daughter Raine. She is the owner of Dancing Barefoot Photography.
Focus: Her primary focus in my business is photographing weddings and creating portraits. She's always creating fine art images and recently has delved into digital photography and digital art. She recently created a calendar featuring breast cancer survivors and donated the proceeds to a local breast health awareness center. This will be an annual event.
Approach: She creates art and a bond with her subjects. She have a subtle, simple approach to creating her images. She likes to get her clients comfortable and then watch what comes naturally for them. Her intuition plays a huge role in this process. Her desire is to create an image that expresses their essence, so the less contrived the better.
Tools: She uses several different cameras when creating images. She shoots both film and digital to create different textures and effects. She shoots both medium format and 35mm. She strives towards simplicity when creating images. Infrared film and her Holga camera are two ways she create ethereal, dreamlike images. This year, she's been having fun experimenting with her digital camera and Adobe Photoshop.
Awards: She's won countless awards for her fine art images. She most recently won a First place and an Honorable Mention in the International Photo Contest at the San Diego County Fair.
Experiences: She spent 10 years in the Marine Corps. Received a Bachelorís degree in Political Science. Taught English as a second language in Taiwan for four years. Backpacked through Asia for several months a few times.
Interests: She paints for herself. She's a writer, currently working on a screenplay and a few books. She is inspired by travel. She loves to spend time with her daughter Raine.
Dreams: To have a card company that sells internationally with images and words to inspire audaciousness. To live in a different foreign country for two months each year. To sell her screenplay and publish her books.