January 2016 Monthly Meeting
Featured Speaker: Bob Bretell
Flower Photography Tips and Tricks
Program Description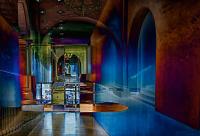 Flower photography is something that I have been involved with for many years. I began shooting flowers professionally when I was asked by the Paul Ecke Ranch to help them with their upcoming spring catalog. That was 1998. Since then I have worked with many major plant and flower growers across the country, photographing everything from daisies to poinsettias.

The plant and flower images I create professionally find there way into trade catalogs and magazines, retail displays and websites. They also sell as stock photography with Alamy (alamy.com), a well known stock broker. I also enjoy shooting flowers as fine art and display my work at various galleries and shops in the San Diego area. Shooting fine art enables me to maintain my technical skills and enjoy the freedom of pushing the limits without the boundaries of working with a client. This in turn helps me stay fresh and inspired.

Another way I stay inspired is by teaching. I conduct flower photography workshops through out the year that teach some of the techniques that I have learned over the last 10 years. I teach students how to work with natural light using diffusers, reflectors and other tools and tricks. My classes are geared for all levels with lots of time set aside for shooting and discussion.

For this presentation Bob is going to bring his experience and photography knowledge along with tips and techniques to help YOU improve YOUR flower photography!

BIO:

Bob Bretell is a San Diego photographer specializing in Portrait, Food, Advertising and Commercial photography.

He is the driving force behind 2nd St Photography and the San Diego based nationally acclaimed photographer noted by his strong straight forward composition and dramatic style, often accompanied with an element of whimsy.

Bob is also a master of fine portraiture. His amiable laid back personality and collaborative nature have helped build enduring relationships with his many diverse clients. His work has been featured in national magazines ,trade journals, books, catalogs and brochures. He has also taught and conducted workshops at UCSD, Mira Costa and Palomar Colleges.

His clients include Ecke Ranch, Hewlet Packard, Cingular Wireless, Sunset Magazine, Eagle Creek, Dr. Bronners Soaps, Kents Bromeliads, Seacrest Village, First National Bank, Mammoth Equities, The City of Encinitas.

See his work at http://2ndstphoto.com/index.htm. And check out his workshops at the San Diego Bontanic Garden by visiting www.SDBGarden.org/classes.htm

Happy New Year! Lets welcome Bob with a big hello!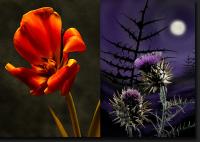 ---