May 2014 Monthly Meeting
Featured Speaker: Tom O Scott
"You've Taken the Photo . . Now What?"
Program Description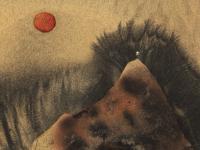 THE PROGRAM

Are you wondering what to do with all those images hidden in folders on your hard drive, forgotten on CD's in your drawers or, if you were a film shooter, collecting dust in your closet?

Then this is the place to be! Join Tom O Scott as he helps YOU help YOUR files see the light of day.

He will share reasons to take your images public, efficient work flow to help you do so and tips on deciding which venue might suit you best.

Isn't it time to get recognized for your talent? Say YES!

The entire presentation is online at www.tomoscott.com. To review it, go to the site and hover over the Home tab. Click on the Clients menu option, and then click on NCPS. The password is "NCPS2014". If you see something that you would like Tom to cover, or if something doesn't seem very clear, please use the contact form on the site and let him know.

ABOUT TOM

I'm not a typical "nature photographer" though I hold them in the highest respect.

I've exhibited with quite a few of them at the San Diego Museum of Natural History and though I do have some nature portfolios, my real love is for the abstract, as represented especially in the Sand Vision and Sandscape portfolios.

Most of these images come from scenes I have found on the beach, created by the combination of minerals and oil in the sand and a receding tide.

I do not "draw" these images; I may place a rock or two (or many) to help create a "story", but nature is the primary creator.

My friend Jared Christopher Martin (see my blog entry about his work) calls my style "elemental modern abstract primitivism". I think that's as good a definition as any.

One of the things I like about these images is that they are like mandalas. In a few hours, they are gone. Google images of Broken Hill; you will find literally hundreds of them. Try and find an image like "Red Rocks and Trees," and you will find only one.

Tom can be contacted at www.tomoscott.com.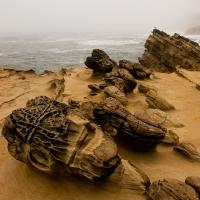 ---