October 2013 Monthly Meeting
Featured Speaker: Roy Toft
Botswana
Program Description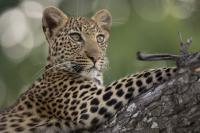 Botswana is a land of staggering beauty with a small population; it is ideally located in the heart of Southern Africa. It is bordered in the north and west by Namibia, in the east by Zimbabwe and South Africa is its southern neighbor.

Its beauty lies in its wilderness, wildlife and cultural diversity. From the crystal-clear waters of the Okavango Delta also known as the 'jewel of the Kalahari' with its variety of wildlife and aquatic birds to the large herds of elephant and buffalo in the Chobe National Park to the dry savannah of the Savuti Channel with its ever present predators and migrating zebra. Its topography consists almost entirely of the Kalahari Basin although there are some granite intrusions in the eastern and southern part of the country.

Roy Toft has led safaris to Botswana for the last 10 years and will show some of his best work from this amazing country.

BIO

Roy Toft's photographic career started with getting his first SLR camera as a college graduation present in 1986. Two days after getting that first camera (Canon AE1), Roy was in Alaska working as a biologist on a wolf population study for the U.S. Fish & Wildlife Service. Over the next ten years, Roy's day jobs included bird trainer & educator, naturalist, elementary school teacher, natural history museum curator and photography assistant to National Geographic photographer Michael "Nick" Nichols.

Nature, conservation and education have always been Roy's passions and after turning to photography full time in 1993…Roy's work has focused on wild animals and their fragile environments. His publications include National Geographic, Smithsonian, Audubon, Discover, Wildlife Conservation, Ranger Rick, and other natural history magazines and publications worldwide. His work is primarily represented by National Geographic Image collection and Getty.

Using photography as a conservation tool has always been important to Roy and in 2005 he became a founding fellow in the prestigious International League of Conservation Photographers. Along with making images, Roy has always enjoyed teaching people about nature and photography. His first photo workshop was taught 12 years ago in the Osa Peninsula, Costa Rica. Over the last decade, Roy has lead and taught workshops in Japan, Alaska, Africa, Brazil, Papua New Guinea, and Costa Rica.

Roy's first trip to Africa in 1991 was an overland safari to Botswana. The safari itself was a disaster, with broken down vehicles the entire way, horrible food, bucket baths, and pup-tent accommodations…..but the African bug had bit Roy and since then he has led trips to Kenya, Tanzania, Rwanda, Namibia, South Africa, and Botswana. The last ten years have been devoted to leading trips for photographers to Botswana.

Roy makes his home in the boulder covered backcountry of Ramona, Ca. (30 miles north east of San Diego), with his wife Robin and their three Labrador Retrievers.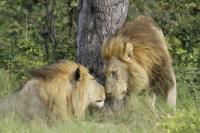 ---