April Monthly Meeting
Featured Speaker, Jim Respess
"Rock Art Photography"
Program Description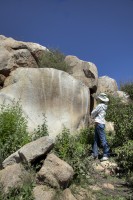 A walk in the remote desert or mountains is sometimes rewarded by the discovery of man-made images or markings that were created hundreds and sometimes thousands of years ago. More often than not, however, the markings go unnoticed by the untrained eye. Recent advances in imaging technology has resulted in the enhancement of faint color and contrast in rock art to such a dramatic degree that many rock art sites throughout the world are being reexamined for art that was missed in the original recordings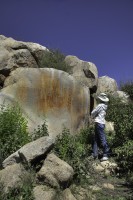 Jim Respess will give a presentation on photographing rock art for official recording as well as for esthetic viewing. There will be a general discussion of fundamental techniques and equipment used for the capture of rock art and Jim will give a more detailed presentation of specialized equipment and techniques that are used to bring out pictographs (paintings on rock) and petroglyphs (images pecked into rock)
DStretch is a tool developed by Jon Harman www.dstretch.com for the digital enhancement of pictographs. A visit to his web site is suggested for examples of the power of the tool and for details on how to obtain and use it. Jim will show examples of pictographs made visible through DStretch and how he has further enhanced visibility and detail with Photoshop tools.
While DStretch can sometimes be used to enhance petroglyphs, Photoshop and other advanced imaging tool sets such as HDR and panorama construction are generally more useful. Examples of rock art, mainly from California but also from other western states, Mexico and elsewhere will be shown.
BIO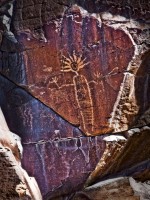 Jim's formal education comprised a broad humanities curriculum, including music, literature, art history, studio and plein-air drawing and painting and photography but with a principal academic focus in science leading to a PhD in Molecular Biology. He was a founding scientist of Viagene, Inc., designing human gene therapy products.
Since 1996, Jim has devoted full time to Fine Art and Photography. He is a member of the American Rock Art Research Association and the San Diego Rock Art Association as well as a number of professional photography and fine art organizations. Dr. Respess has been photographing rock art in Western States and in Mexico for over twenty years and is an expert at capturing the often-difficult subjects in their environment. Jim's photography has won prizes in national competitions, has been collected internationally and has been published in a variety of books and magazines.
You can see his work and activities at www.greenflashphotography.com
---