Member Critique Session
February Meeting
Program Description
As in years past, the entire February meeting will be a member critique session with the purpose of giving everyone at NCPS the opportunity to get constructive feedback on up to 2 images. The idea is that you start getting ready for the Del Mar Fairgrounds International competition (May is not that far away!). This year we are lucky to have Larry McDaniel and Lew Abulafia as our panelists who will offer comments or suggestions on how to improve your images.

Larry is a seasoned professional who has worked in the product and commercial photography field for many years. Some of you might know Larry McDaniel from Calumet Photographic in Escondido where he has also been an instructor in classes such as Lighting, Portraiture, Macro, etc. Larry also brings his extensive experience as a judge at the Del Mar Fairgrounds International competition.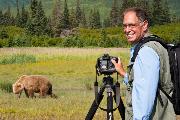 Lew Abulafia, whom I am sure most of you know, has been a NCPS member for many years and is an avid photographer. But it was only after his retirement from a long career in health care, that he had the time to actively pursue his long time hobby. Perhaps it was growing up in the concrete streets of Brooklyn that ignited his passion for landscape and wildlife photography. In any event, over the years he's traveled extensively, mostly in the southwest US and Alaska. He's studied with master photographers, including David Muench, Jack Dykinga, Tom Mangelson and others. Along the way he's been fortunate to have captured prize winning images in Alaska, Yosemite and the Grand Canyon. Nationally published several times and winner of local and international photo contests Lew's work is bold, grand in scope, colorful and evoking of deep emotions and sensations.
We will spend just a few minutes on each image, with both Larry and Lew commenting on how the photo might be improved upon. To have your work analyzed, submit 1-2 images to our projectionist (Vern Elmore, at projectionist@nc-photo.org) just like you would for our normal member share. Name them with your initials and number one or two (for example: cb1 & cb2), so we know which image you want seen for sure, in case we only have time to go over one for each person (not likely, but just in case…!). And as a refresher, here are the basic guidelines for submission:
Up to 2 images per member
Any subject matter is acceptable
set to 72 dpi (if not already at that value)
resize to 1024 pixels x 768 pixels (or 1024 on the longest side)
set profile to sRGB
sharpen as needed.
"save as" jpeg @ highest quality
This results in an image no larger than 1,000kb. Email to projectionist no later than 6:30 PM the night before the meeting. We will not accept late offers or be adding images during the meeting.