Mike Torrey
Featured Speaker, May Meeting
Machu Picchu – Terraces of Enlightenment
In this informative and illustrated program by architectural photographer Mike Torrey, take a vicarious journey to Machu Picchu in Peru, a place renowned as both an architectural and archeological wonder. Through imagery, music and brief discussion of its history, this program reveals what is most extraordinary and mysterious about Machu Picchu. Although more than 2,000 people visit the site every day, his images show you Machu Picchu with hardly any visitors evident.

In addition to discussing Machu Picchu, Mike will:
share his unique journey to becoming an architectural photographer


explain his vision and approach to photographing a popular tourist destination


discuss the publishing process and keys to making a book successful
This program is based on Mike's book, STONE OFFERINGS Machu Picchu's Terraces of Enlightenment, a collection of over 100 photographs from his trips at the June and December solstices. Stone Offerings was just named a Finalist for the Benjamin Franklin Awards for art books and is currently the number two selling book on Machu Picchu at Amazon.com.
Biography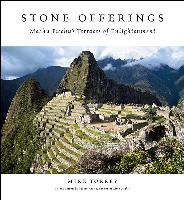 Mike Torrey creates extraordinary images of the built environment. In his work as an architectural photographer, he reveals the powerful connections possible between the natural and the man-made world. His fascination with architecture grew from a previous career in energy consulting where he worked with the functional components of buildings. As his interests expanded to buildings' architectural form, he began working with and learning from established architectural photographers before striking out on his own. In 2006, Mike's image of the famed Bonaventure Hotel in Los Angeles was recognized by the American Institute of Architects at its annual convention. Today, his list of clients includes major hotels, architectural firms and corporations.
In addition to his photographic work, he has taught photography to architecture students and is a member of the steering committee for the Friends of San Diego Architecture, which presents a lecture series on the built environment.
Torrey holds a Bachelor of Science degree in business from San Diego State University and a Masters of Business Administration degree from the University of San Diego.
Praise for Stone Offerings:
"Absolutely Sensational. Wonderful photographs and the most comprehensive take on Machu Picchu I have ever seen. A great addition to anyone's library both for information and delight." - Jay Maisel, photographer