Gesa Cowell
Featured Speaker, February Meeting
The Duration of Things
The Duration of Things is a series of still lifes that reflect on the frailty of memories and a nostalgic longing for the past as a means of achieving a sense of permanence. The images depict objects that carry a personal symbolic meaning for me. I am exploring ways in which these (or any) objects may become vessels for memories and life experiences, how they may symbolize and even portray their owners. This could take place through the impression a person leaves within a worn shoe, or through a fleeting association an object may evoke. It is the idea of a life lived – past, present and future - that interests me, and how impressions of this life can be captured and preserved in a photograph.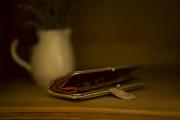 The idea for this project originally formed when I observed how my mother, my family, and I were affected by the onset of my mother's dementia. When visiting my mother at home a few years ago, I started taking photographs of just about everything. While these photographs at first served an almost therapeutic purpose (I felt that by literally capturing events and scenery within the camera, I could find a way to hold on to memories), I soon became interested in the significance of "things", belongings as mementos of the past.
I want to create images that are able to evoke emotions. I want to explore concepts of memories and how the past may be perceived and recalled, especially with the help of physical objects and spaces. And I want to create images that touch the viewer through their beauty and serenity.
Biography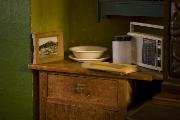 Photographs, especially portraits, have always fascinated me. As early as I can remember, I have been drawn to family photographs, studying faces, poses and settings and trying to conjure up a connection to the people in the image.
The ability of the camera to serve as another form of memory by preserving moments in time is what attracted me initially to photography.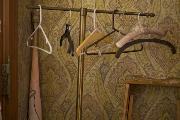 I believe that cameras can define reality for a specific moment and that the photograph, through its mimetic nature, can provide a type of deceptive continuity. But just as memories can be unreliable, so too can be photographs as they are traces of actual objects that are taken out of context of environment and time. My objective is to create images that are consciously detached from the specific moment, and therefore achieve a deeper understanding or meaning.
I want to create images that have a sense of duration which transcends the idea of historic time and narrative. While I am interested in capturing appearances and preserving memories, I ultimately want to evoke a sense of timelessness and poignancy.
In my photography, I focus on still life and portraiture. My images resonate with the viewer, evoking associations and memories and encourage thoughts about the role that objects play in creating life's recollections.
While I have always been interested in expressing myself through the arts, be it through painting, writing or photography, it has taken me several years to develop the courage and confidence to share my artistic vision with others. Partly because of this, I am very interested and involved in teaching and mentoring; especially through children's arts programs.
Although I initially studied Italian and English literature in college I graduated with a BS in Business. After several years in the corporate world, I decided to finally return to my creative roots and rediscovered my interest in photography. In 2004, I opened a small photography studio in San Diego focusing on family portraits and commissioned work. In 2009, I received a Master of Fine Art degree in Photography at the Academy of Art University in San Francisco.
Please visit my website www.gesacowell.com You may contact me at gcowell@pointsofview.biz