Ernie Cowen
Featured Speaker, January Meeting

Topic: "Desert Photograpy"
Hmm, what to shoot?! The holidays are over, we've finally eaten up all the goodies in the house, and some of us may have new toys to try out,...but where to go, what subject matter to pursue? Why not the desert? While it's still cool!! Hopefully, for the next few months our local deserts will be seeing temps more in the 70s (instead of the 90s and 100s...!), and if we're lucky, we'll get more rain and get those flowers going (for a great desert wildflower reporting resource, check out this website: www.desertusa.com/wildflo/ca.html
There are many roads (some needing 4WD, some not) and trails to explore. Sunrises and sunsets can be especially poignant in the desert. So, in keeping with taking advantage of winter/spring conditions, our January presenter, Ernie Cowan, will familiarize us with (or reintroduce us to!) desert photography, and in particular, shooting in Anza-Borrego. As you'll read in his bio., Ernie has walked many paths in life, but his current activities have led to the publication of his book, "Anza-Borrego: A Photographic Journey." So come hear and see Ernie's experiences and tips and whet your appetite for some desert exploration. And then...let's get out there and shoot!
BIOGRAPHICAL INFORMATION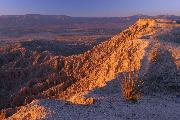 The desert sands of eastern San Diego County were the playground for Ernie Cowan since his early days as a Boy Scout. His San Diego Troop often hiked and camped in Palm Canyon, Dos Cabezas and Shell Canyon.
But his years of discovery in Anza-Borrego Desert State Park really began at age 16 when he obtained the freedom of a driver's license. With friends be began spending most free weekends and school holidays in the desert, drawn by the vast open spaces, unique wildlife, the opportunity of discovery and sense of adventure. Combined with his growing love of photography he began a lifetime of recording the beauty and unique landscape of Anza-Borrego Desert State Park.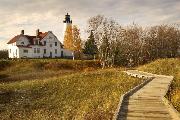 At San Diego State University, Cowan realized that photography was his passion. He gravitated to journalism and got a job as a reporter for the San Diego Evening Tribune. Soon he was assigned to cover San Diego's growing North County and his beat included Anza-Borrego Desert State Park.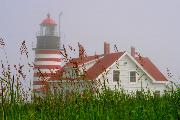 Cowan spent as much time as possible in the desert, gaining friendships with many rangers and park superintendents. He was one of the original founders of the Anza-Borrego Desert Natural History Association and served for a time as a director for the Anza-Borrego Foundation.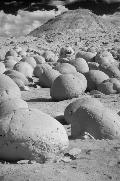 As a resident of Escondido, Cowan got involved in local politics and was elected to the City Council and served as Mayor. But he never lost touch with the desert and continued his photographic journey. He authored many articles for Desert Magazine, hiked hundreds of miles through some of the parks most remote wilderness areas, and remained an advocate for preservation and expansion of Anza-Borrego.
Recently Cowan has been under contract with the State of California to explore, map, and document in photographs the 28,000 acre Carrizo Impact Area. This remote area of Anza-Borrego Desert State Park has been closed to the public since 1942 when it was designated a military bombing range. It is a unique area of geological, archeological and historical significance that hopefully someday can be returned to public use.
Cowan's greatest joy is introducing others to the beauties of the desert. He can often be found with a group of friends or photography enthusiasts in the most scenic areas of the park as he reveals the many wonders found here. His life has been a photographic journey through Anza-Borrego Desert State Park and he is thrilled to be allowed to share that journey.