Jon Held and Jenna Close
Featured Speakers, October Meeting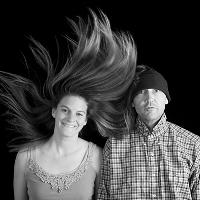 Topic: "Making Your Way in the World of Commercial Photography"
Company Bio: P2 Photography is a commercial photography company founded by Jon Held and Jenna Close. We are corporate and industrial photographers who take a particular interest in alternative energy. We specialize in the promotion of environmental sustainability, renewable resources and all issues surrounding the energy needs of the future. P2 Photography's clients include: Wind Power Monthly, Xanterra Parks and Resorts (Death Valley Solar Facility), Coalition for Clean Air, and SPG Solar.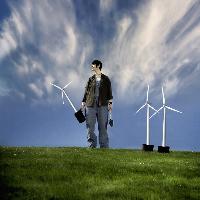 Their work is currently featured in the Center for Fine Art Photography's show "Our Environment" in Fort Collins, Colorado, as well as in a solo gallery show at LiftKids in St. Paul, Minneapolis. Jenna won first place in the Ilford/Calumet Black and White Print Competition in 2007, and both Jon and Jenna's work has been accepted to Photographer's Forum Best of Photography Annual 2008. They are proud members of the American Society of Media Photographers and sit on the board as chair of the Programs Committee.
Bio Jenna
Jenna Close spent the first 20 years of her life as an actress. She has performed everywhere from Off-Broadway to Scotland to Bulgaria. She met Jon while working at the internationally renowned Actor's Theater of Louisville as a cast member in their Humana Festival of New American Plays. Trading her costumes for a camera at age 25, she attending the Commercial Photography program at the Art Institute of Seattle, where she was a selected participant in Project: Photoshop Lightroom with photojournalist Colin Finlay and Adobe Senior Evangelist Julianne Kost.
Bio John
Jon Held's first career was as a professional juggler with the trio Airjazz. The group won the National Team Juggling Championships in 1982 and went on to perform on The Tonight Show with Johnny Carson, The Smothers Brothers and the Paul Daniels Show as well as at numerous arts and dance festivals all over the world. During this time Jon photographed his travels, eventually meeting Jenna while performing in the same play at Actor's Theater and making the transition to photography full time. He is also a certified private seaplane pilot as well as a commercial glider pilot and instructor.
Please visist our websites: www.p2photography.net
and our Blog www.p2photography.net/wordpress