Steve Cirone
Featured Speaker, August Meeting

Topic: "Decisive Moments in Spectacular Light. Honing Your Explorations on the Cutting Edge of Digital Nature Photography"
At NCPS on August 27 I'll show you my 10 frames per second, 1/4000th second shutter speed nature photography sequences that reveal mysteries unavailable to the naked eye. Yeah, yeah. But this is not about me, it is about YOU. I want to help you have as much fun as possible exploring our art. I will share my techniques and tools, and hope to save you wasted time and wasted money. I photograph nearly every day. With a little help, you too can make new photographic discoveries and learn about our vast array of local critters. Check out my website for my upcoming Instructional Nature Photography Tours if you want to take it ever farther.
Bio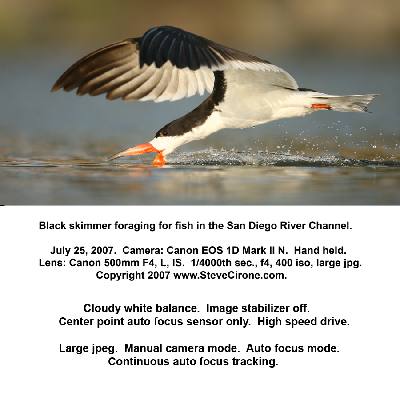 My childhood was the epitome of the Southern California dream. Under the tutelage of my sportsman father, I spent my days surfing, skateboarding, diving, exploring, and otherwise enjoying the incredible recreational opportunities afforded by my environment. In an attempt to capture and share my personal vision and enthusiasm for life, I picked up a camera and began to document my world. Photography soon became as much a passion as surfing the perfect wave, diving the reefs, or exploring the dynamic California coastline.
After graduating from SDSU with a Master's Degree in 1977, I wrote and produced educational audio/video programs for American Honda. In 1978, I went into business for myself in the bottled water industry and still own that enterprise. Now I photograph only that which feeds my soul. Who could ask for more?
In recent years I have turned the experience gained from decades behind the camera to capturing the beauty of the birds of my native California. Meanwhile, I took on galvanizing likeminded photographers, both professional and amateur, by assuming the position of President of the Sierra Club Photography Section for four years.
My style is influenced by my early training as a student of Art Morris whom I still greatly admire. Art is the grandfather of the wonderful hobby of modern avian photography.
As my photographic interests evolved, I extended my photographic vision into studio work. I am a judge of photographic competitions in southern California. I live in the Mission Trails area of San Diego, California. My award-winning work has been exhibited at the International Exhibition of Photography Del Mar, the Larry Dumlao Gallery, Balboa Park, and the North County Photographers' Gallery.
My current passion is to showcase animal behavior which cannot be seen with the naked eye: "Decisive Moments in Spectacular Light."
Please visist my website: www.stevecirone.com