Dennis Mammana
Featured Speaker, June Meeting

Topic: CAPTURE THE COSMOS
Join us this June 25th as we learn from another incredible local talent, Dennis Mammana - who I'm going to call the "Sky Guy." As you'll read in his biography, Dennis is well known for all things astronomical.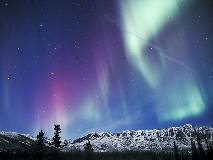 If you like to look at gorgeous images, or want to learn how to take some of your own Aurora Borealis/sky/star photos, you must not miss this meeting!! Most of the spectacular photos in Dennis Mammana's SkyScapes Gallery were shot with little more than a camera and a tripod. Learn how to create magnificent one-of-a-kind celestial portraits with even the most basic of equipment—along with a few well-guarded "tricks of the trade"!
ABOUT DENNIS MAMMANA
A Brief Biography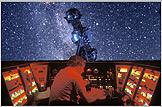 For more than three decades, Dennis Mammana has delivered the wonder and mystery of the cosmos to millions around the world.
Mammana received his B.A. in physics & astronomy from Otterbein College, a small liberal-arts school in Westerville, Ohio, and his M.S. in astronomy from Vanderbilt University in Nashville, Tennessee. In 1974, out of 55 candidates, he was awarded a coveted one-year internship at the world-famous Strasenburgh Planetarium in Rochester, New York .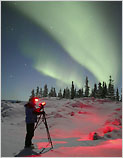 Mammana has held planetarium positions at the Smithsonian Institution's National Air & Space Museum, the University of Arizona, and San Diego's Reuben H. Fleet Science Center, and now works as an astronomy author, lecturer and photographer from under the clear, dark skies of Southern California's Anza-Borrego Desert.
Mammana is the author of six books on astronomy, hundreds of popular magazine and encyclopedia articles and, since 1992, has written "Stargazer"—the only nationally-syndicated (U.S.) weekly newspaper column on astronomy.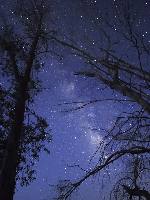 As a noted and accomplished sky photographer, his stunning imagery captures the motion, majesty and mystery of the cosmos, and has appeared in local, regional, national and international electronic and print media.
Since the mid-1980s, Mammana has served as an astronomical lecturer and technical advisor on many public comet-, meteor shower-, aurora- and eclipse-observing expeditions on six continents.
A dynamic public speaker, Mammana has entertained and informed thousands at resorts, on cruise ships, and as an after-dinner speaker, and has become a frequently invited guest on both radio and television
Please visit his website: www.DennisMammana.com
Dennis is also having a Show!
Capturing the Cosmos: A Personal Journey
June 21 – August 3, 2008
OPT Underground Gallery, Oceanside, CA
Behold the marvels of space and time through the camera of noted sky photographer Dennis Mammana. Mammana's collection of stunning images celebrates his four decades of capturing the cosmos from locations as near as his own backyard to the most distant, exotic locations on Earth. The exhibition portrays the color, motion and majesty of the heavens in ways one rarely sees and, by blending the terrestrial with the celestial, offers the viewer a unique sense of perspective and wonder.
Dennis Mammana is an astronomer, a nationally-syndicated columnist (appearing weekly in the San Diego Union-Tribune) and an invited member of TWAN—an international team of the most highly-acclaimed sky photographers on the planet. He can be visited online at www.DennisMammana.com
Opening Reception: Saturday, June 21, 2008 from 6-9 p.m. Refreshments served. A portion of the proceeds from sales will be donated to the Wounded Warrior Project.