Susan Coppock
Featured Speaker, April Meeting

Topic: Creatures, composites, & your creative subconscious
The beauty of digital compositing is being able to put together images that are only marginally interesting by themselves, but wonderful-maybe even spectacular- when added to each other. I will show some digital composites and explain the steps with each image that I used to create them. Sometimes one image leads to another, but sometimes we have to shoot photographs to fit ideas we have. I will show examples of each of these, along with some images that came to me fully formed in dreams. These just required me to make them happen (which is much easier said than done!). Your subconscious can be a powerful tool in your photography.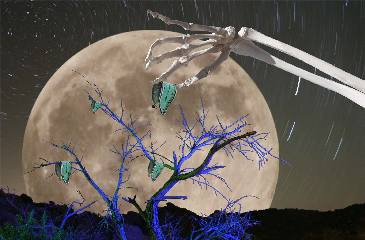 I have been making photographs since I was 14 years old and received a Polaroid Swinger camera for Christmas. Photography itself has come a long way in these same decades. From my posed black and white Polaroid portrait photos of those early days to the magic of the digital age has been an adventure in learning. With photography I have learned about the world, learned new ways to express my creativity, and learned about myself.
I like making photographs, not just taking them, so playing with Photoshop has been a thrill. Now I get to take parts from photographs I have been shooting all these years, and adding new ones to create completely different and unique images. With digital imaging and Photoshop, I feel my creativity has been broadened exponentially. The future is very bright and only limited to imagination.
My business is called Night Owl Photography because I have always been a night owl when in comes to shooting photographs. I have been enthralled by the magic and beauty of the nocturnal world for most of my life. I enjoy the serendipity in being unable to visualize completely how my final images will look before I press the shutter button—the heavens seem to be in control and I love seeing what "develops."
I have been involved in all aspects of photography since I was a teenager- I have worked in photo labs, camera stores, owned a photo studio, taught at Palomar College, owned a camera store and custom frame shop, and currently teach photography at San Dieguito Academy High School in Encinitas. My work is currently on exhibit in Oceanside at OPT Underground Gallery on Mission Avenue. I have won many awards over the years, some of which include People's Choice, First and Fourth place in night photography and Fourth place in the Heroes category in the San Diego County Fair, People's Choice in the Fallbrook Photo Festival, First and Third place in the North County Times Ansel Adams photo contest, along with many honorable mentions.
I hope you enjoy my vision of the world, as unusual (or crazy) as it may be…
Please visit my web site at www.nightowlphotography.com.