Neil Solomon
Featured Speaker, August Meeting
Topic: The Birds of Texas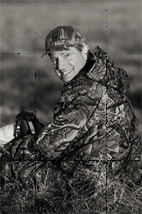 Last year, Neil shared his experiences of photographing the "Great Grey Owls of Northern Minnesota" with us. I must confess that I was unfortunately out of town and missed that meeting. But upon my return, I heard such rave reviews from members that I knew we had to have this guy back! And I'm happy to say I will definitely be here this time for Neil's presentation on photographing the very colorful and diverse species of birds in Texas! Some of our more dedicated birders (hmmm, folks like Sharon Anthony come to mind...! ;) will no doubt enjoy Neil's talk, but I'm sure we will all be impressed by his images and learn new techniques.

Biography: Neil Solomon was born and raised in Brooklyn, New York. He is a long time San Diego resident whose passionate interest in bird photography has become an equally passionate interest in introducing bird photography to others. To this end Neil has presented slide shows of his images to the San Diego Field Ornithologists, the Photonaturalist Photo Club of San Diego, the North County Photographic Society, the Sierra Club, Palomar Audubon Society and the Rancho la Puerta Resort in Tecate, Mexico. In 2007, Neil will lead Bird Photography workshops at the San Diego Natural History Museum as well the Rancho La Puerta Resort. You can view Neil's images on his website www.nsolomonphoto.com.
Texas Slideshow Description: Texas boasts more bird species than any other state in the country. This is particularly true each Spring when many species briefly travel north of the border. Birds in the Rio Grande Valley are attracted to any water or food in this arid desert environment. As a result, photography from blinds located near water and food can be very productive. Neil will present images of the wide variety of birds found in the area as well as discuss some of the ins and outs of photographing from a blind.