Roy Toft
Featured Speaker, June Meeting
Topic: Photographing Bears in Alaska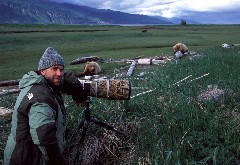 Whenever I'm in Alaska (which is every summer), I'm struck by its immensity and vastness. With this presentation, I will recount my annual journey to view Bears in Alaska, from Pack Creek on Admiralty Island in Southeast Alaska, to the famous Denali and Katmai National Parks. A single trip can take the photographer from the lush Temperate Rainforest in the southeast to the sparse treeless Tundra of central Denali National Park, and then on to witness the "spectacle of Brown Bears" in Katmai National Park. To conclude my Alaskan journey each year, I lead a group of photographers through my annual "Camping with Bears" workshop at Brooks Falls. Brooks Falls is one of two places in Katmai National Park (along with McNeil River) that are best known for its fishing bears. Last year, at one point we could see 25 different bears at one time! As always, our days are filled with photographing, watching, encountering, experiencing, and appreciating these amazing giants. Trips like this always remind me how lucky I am to be a wildlife photographer, and how amazingly diverse our planet is. I am also reminded how fragile the world's wild places are, and how we all need to remain vigilant in our advocacy for their protection.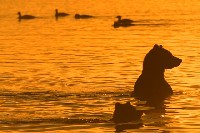 About Roy Toft: Dedicated to documenting our natural world for future generations, professional photographer Roy Toft is an accomplished conservation photographer. With a background in wildlife and conservation biology, Toft chooses to focus solely on wild images that convey a sense of the animal's character and spirit. His images have been featured in National Geographic, Smithsonian, Audubon, Wildlife Conservation, Discover magazines and other notable publications to advance conservation efforts globally. As a result, he has been named a founding fellow of the prestigious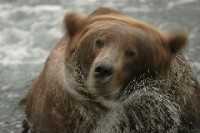 International League of Conservation Photographers (ILCP). Toft's striking wildlife images are also available worldwide through the National Geographic Image Collection and Getty Images. Roy shares his love for teaching & photography by regularly instructing photographic classes, tour groups and workshops in the field. Roy's popular Rainforests of Costa Rica workshop was recently filmed for television. The show, Fine Living Network's Fantasy Camp, has appeared on T.V. and airline flights. His home office is in the scenic mountainous region of beautiful north county San Diego.
Note from the Programs Director: Because I think we can all agree he has been one of our most outstanding speakers, I am happy to announce that Roy Toft will be returning as our June presenter. He last entertained us (in August of 2006) with fantastic images from his many Costa Rica trips, educating us not only with great photographic techniques but also about the incredible natural elements of this region. This time, we'll be practically on the other end of the continent with him, in Alaska! So come see some fantastic imagery and hear one of our most dynamic speakers share how he gets his exceptional photographs under challenging conditions (Have you ever tried bear photography in AK?? I have! Weather, water, high contrast, monochromatic elements,... But do you notice those things when you look at his photos?! No!)