Jim Respess
Featured Speaker, February Meeting
Topic: Conceptual Photography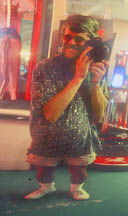 Jim Respess has been taking photographs since receiving his first camera out of a cereal box, at the age of ten. Although Jim has had careers as a Musician, a Surgical Assistant, a Research Scientist and a Fine Art Printer, making photographic art has been a passion for most of his life. Between stints of formal education, he has traveled throughout the United States, Canada, Mexico and countries of Europe, including two 10,000 mile motorcycle trips that took him from Scotland to Turkey.
Jim and Jan Respess moved to San Diego after four years in Ann Arbor, Michigan where Jim received a Ph.D. in Molecular Biology. He was recruited as a founding scientist for a local biotech company where he designed retroviral vectors for human gene therapy products. When the company was bought out by a larger corporation it was time for a new career.
Jim's principal goal in his new career of photography was to make art. His first step was to go back to school to get some more photography and darkroom training. It was there that he discovered the Photoshop software.
"My immediate fascination with Photoshop was similar to my attraction to DNA technology. So many of the crazy things I was trying to do in the camera and in the darkroom were now facilitated with that software." While Jim's art has progressed, resulting in prizes in local, national and international art exhibitions, he has also developed a digital printing business, Green Flash Photography. Since 1999, he has been printing professionally, making fine art reproductions (giclée) for visual artists and exhibition prints for photographers. "One of my greatest challenges now is balancing the time between the ever growing printing business and making art."
Jim will present his art of conceptual photography. "I am in the business of creating images that document ideas rather than events." He will present manipulated images that attempt to go beyond what the eye can see. "I am interested in how we perceive things and hoe visual images can be made to embody not only other elements of perception but also concepts such as time and narrative."