Dok Blanchard, Featured Speaker, February 2006 Meeting
Topic: Beauty and Serenity: Emotional Keys to Photography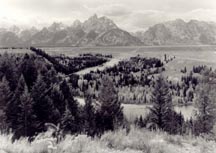 BIOGRAPHY

A professional photographer unique in the Southern California region, Dok Blanchard's work has been described by collectors and curators as "quite beautiful" and "well executed_ (Dr. Carol McCusker, Curator of Photography, MOPA, 2003. In fact, beauty and serenity are the emotional keys to Blanchard's work, with a technique as grounded in the classic style of f64. The collection is executed in black and white, large format (4x5 and above) and consistently poetic in both content and composition.
Dok Blanchard's awards include a first place award from Mind's Island, Indian Orchard, MA 2004. Dok was asked to submit an award winning work which toured in a three city/three country show of contemporary artists (Tijuana-Yohahama-San Diego Art Exchange, "One With Clouds" juried show 1992-93). He has created works for, and been honored by the San Diego Historical Society, The Ocean Beach Historical Society, and the San Diego Museum of Natural History, which awarded Dok one of the top_ "100 Blacks in San Diego_" for his work; all institutions retain his visions of San Diego in their collections.
His last one man invitational show was at The San Diego County Administration Building (Feb 2004). This show has been widely praised and has won Blanchard a new following in the collections of the legal community.
Blanchard has been featured in publications such as the San Diego Union Tribune ("Photographer's Main Goal to Translate Emotions" March 2003), reviewed for his first place award in the North County Times ("Library Curator Studies Human Form in "Figure", June 2002), and reviewed for yet another first place entry in The Paper (Gallery Walk, Escondido, July 2002.)
His show at the County Administration Building San Diego, appeared in the KPBS "On Air Magazine", The Visual Arts Gallery, "The Photography of Dok Blanchard" Jan 2004.
Blanchard has shown in the top Southern California galleries; to mention a few: William Cannon, Lewis King, the Upstairs Gallery, Art Site Gallery, the Horton Plaza Lyceum Theatre Gallery, John Sexton Gallery of Carmel, and the Laguna Beach Gallery of Photography.
His influences include f64, Steichen, Weston, and more recently his teacher John Sexton (see John Sexton, Places of Power, Carmel Valley, Ventana Ed., 2000.)
Dok Blanchard's art photography, black & white images, landscapes, figurative work, abstractions can be seen at www.dokblanchard.com.