Abe Ordover, Featured Speaker, March 2005 Meeting
Nature Photography: From Grand Landscapes Through Impressionism to Abstraction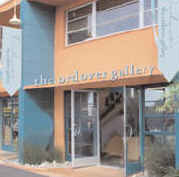 Abe Ordover's impressionistic photography is a fusion of camera work and computer work, giving the viewer a glimpse into his imagination and perception of a world ever changing. The artist's international travels are revealed in images that capture the earth's magesty and his feelings the moment the photograph was taken.
Ordover began to computer enhance photographs in 1997. Through insightful manipulation he emphasizes color, texture, and pattern to evoke the strong emotions that he experienced when stepping into the scene. His choice of powerful hues along with blurred and bended abstraction, create impressionistic pieces that have become his trademark.
Ordover's photography has been shown in galleries and museums throughout the U.S. These include shows in New York City, Dallas, Atlanta, Boulder, Raleigh, and Nashville, as well as regional exhibitions in Michigan, Minnesota and Alabama. His gallery in the Solana Beach Cedros Design District specializes in fine art nature photography and features world-renowned photographers.
Web site: Ordover Gallery Website