Lee Peterson, Featured Speaker, February 2005 Meeting
The distance between digital and traditional thinking - both have their place in the art of photography.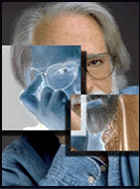 For over 40 years, Lee has photographed places people rarely ever get to see, and of those who reside there. He is a pioneer in underwater photography and lens design, lending a skillful eye to the evolution of what photography is today. On top of all his achievements, he's made a living helping others with his services.
Lee Peterson is about photography. On land, in the air, and especially under water, Lee captures and records the world around him, bringing insight and new light to his subjects. Film acts as an extension of his thought process holding latent images that he uses to develop into the printed image which becomes an experience of discovery for the viewer. Working in both film and digital imaging, Lee Peterson defines thse different arts each in their own right. He knows that art is a reflection of the soul and the print is merely its manifestation. Though equally talented in color, Lee uses it in a more documentary fashion, whereas is black and white images are more emotional -- an image turned into a poem. B&W as a medium has a far larger vocabulary of emotion and communication.
Lee lives near the ocean, west of the mountains. As well as being a photographer, he excels in being a father, husband, poet, entrepreneur, lens designer, and traveler. His trips take him around the world into places most would not dare to venture. There he captures the unknown, bringing it safely into the familiar for those who cannot go there. Lee's images show the viewer not only the world, but the beauty it can contain as seen through one man's eyes. He believes that art is the person, not the print.
Web site: Lee Peterson web site