Will Gibson, Featured Speaker, September 2004 Meeting
Painting with Light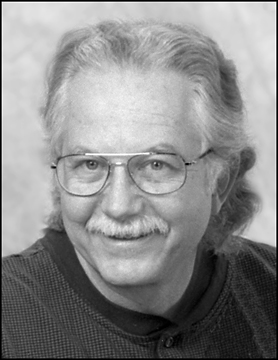 Will Gibson was born in 1950 in Alhambra, CA and has called California home for all but three years in Columbus, OH (1999-2002). He turned his passion for photography into his profession in 1980, operating his own commercial studio in San Marcos, CA for 16 years. Since 1999, he has focused his efforts on teaching and producing and promoting his fine art black and white images in art fairs, winning honors along the way including "Best of Show" in Delaware and Willoughby, OH (2001) and Florence, Alabama (2002).
Early influences include Ansel Adams, Edward and Brett Weston and the host of Life magazine photographers who came into his home every week. A firm believer in learning by doing, he has studied in workshops by Larry Ford, Al Weber, and most recently John Sexton. He was an artist-in-residence at Rocky Mountain National Park in 1993 and has exhibited in many group and one-man shows in California throughout the years. His "Alhambra Farewell" exhibit was the inaugural show at the new location of North County Camera in Escondido in June 2003.
His work resides in many private homes as well as the collections of companies including Kaiser Electro-Optical and the Pritikin Institute. He has taught photography at the Columbus College of Art & Design in Columbus, Ohio and at Palomar Community College in San Marcos C.A. and is currently Moderator of the Escondido Photo Arts Group.
Will carries his cameras on most of his travels. Images are available from rafting expeditions on the Salmon and Colorado Rivers, backpacking in the Sierra Nevada and trips to Alaska, Death Valley, numerous sites in the Southwest, and most recently central Ohio and the surrounding areas. He is increasingly exploring night photography and light painting techniques.
Would you like to speak to our group? Take a look at our Speaker Guidelines and contact our Program Director about your presentation.
August's Speaker October Meeting